Explore Green London
Walk along the Beverley Brook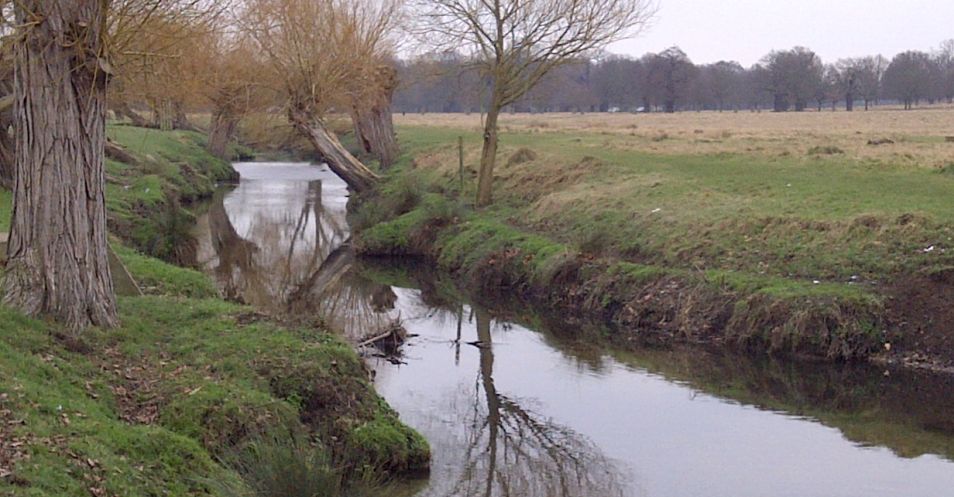 This walk follows the Beverley Brook from New Malden to the River Thames at Putney. Beverly brook comes from 'Beavers Ley', which means a place where beavers live. The time beavers lived here might be long buried in history, but there are still plenty of chances to see wildlife on this route. The trail passes through Barnes Common, Richmond Park and The time Wimbledon Common. Those of you who joined our Wimbledon to Richmond walk in September already know how beautiful that area is. We will not be walking the same route as that time, but you might be seeing some familiar sights, as we will cross that route at our lunch spot. The highlights of this walk include the Beverley Meads and Fishpond Local Nature Reserve where Kingfishers and Mandarin Ducks may be seen. At Barnes we will pass near to the wonderful Wildfowl and Wetlands Centre, so we will have a chance to see a wide variety of birds. Our walk ends in Putney, where we will sure to find a nice pub to reminisce about our achievements of the day.
With those short winter days, it is even more important to spend time in nature, get plenty of daylight and enjoy the friendship and company of others. So, come on a walk with us – we promise we will help you feel absolutely fabulous, both mentally and physically! Will you join us on this walk?
How to get there:
To travel together: Meet us at 9.15 in front of the FCB coffee shop at the side of Denmark Hill station, where we will aim to catch the 9.30 Overground to Clapham Junction. From there we aim to take the 10.06 train (from Platform 11), aiming to arrive at New Malden station at 10.48 am.
If this is easier for you, you can also meet us on the train, or in New Malden. If you do get the train at a different station, please make sure you text me on 078 078 3456 4 to tell me you plan to do that, and then again once you are on it, and in which carriage you are, so we don't get all worried that you are not there! 🙂
The train also stops at these stations: 09:57 London Waterloo (Platform 4), 10:01 Vauxhall, 10:09 Earlesfield, 10:13 Wimbledon, 10:16 Raynes Park
All stations are within the Oyster and 60+ Freedom card zone, so there is no need to buy tickets in advance. Terrain and length of the route:
The route is about 7.5 miles/ 11.5 kilometres. We will walk on a variety of terrain, with some uneven woodland and grassy paths. There are steps at the footbridge crossing the A3. It is February, so puddles and mud can be expected. Please bring good footwear.
What to bring
I suggest we bring a pick-nick and enjoy your lunch outside. It is a great idea to bring a flask, so you have something warm to drink for on the way if you get a bit cold. (There are a couple of cafe's along the way, so if it isn't very pleasant, we could make a stop to warm up)
I have a reputation to uphold, so I am counting on sunny weather, but this walk will happen in any weather, unless it is unsafe. Please bring your waterproofs and waterproof trainers with good grippy profile.
Important to know
New Malden station has a toilet, so we could have a quick stop there before we set off. After that, there are a few public toilets along the route, in Richmond Park, Palewell common and at Barnes green.
We are a friendly and social group, and we love to make sure everyone feels welcome. We will walk at our usual pleasant pace, so don't expect a super-fast walk. You can walk your own speed, but we do ask fast walkers to regularly wait or do a 'puppy loop' (walking back to the back of the group to say hi to the people who aren't as fast as you). That way everyone gets the workout they need, and it is more fun for everyone!
Who can join?
Anyone who can comfortably walk 12 km. Feel free to bring a friend or family member, with or without poles. Nordic Walker or not, you are very welcome to join us, with or without poles, as long as you are Fit (enough) and Happy. 🙂
Cost:
£10 or, if you are one of our regular Fit and Happy Outdoors walkers, one stamp on your 10 session card. (£89 for ten walks)
If you are genuinely poverty stricken- £5
(Train tickets and food or drinks at café not included)
Need poles?
Don't have your own poles? Would you like to borrow some from me? Text me the MORNING OF THE WALK on 078 078 3456 4 and I will bring you some. (please, please do not ask me days before, as I will forget and that will make us both unhappy!)
Thinking about buying your own?
Check our shop for a great range of poles. Too much choice? You might like to read this useful guide first. Feel free to give us a ring, we are happy to advise you on the best poles for your lifestyle, needs and wishes.
Joining A Walk
New to Fit and Happy Outdoors? Please fill in the registration and health questionaire, which you can find here and email them to walks@fitandhappyoutdoors.com at least 24 hours before the session, mentioning in the header which walk you want to join. That will give us enough time to get back to you and discuss your needs and experience.
Please sign up for our
Meetup Group to easily RSVP and find out when the next walks are.
Not on Meetup (yet)? You can also use this contact form:
Please fill in the form below