Nordic Walk and Explore London
Barnes Bridge to Teddington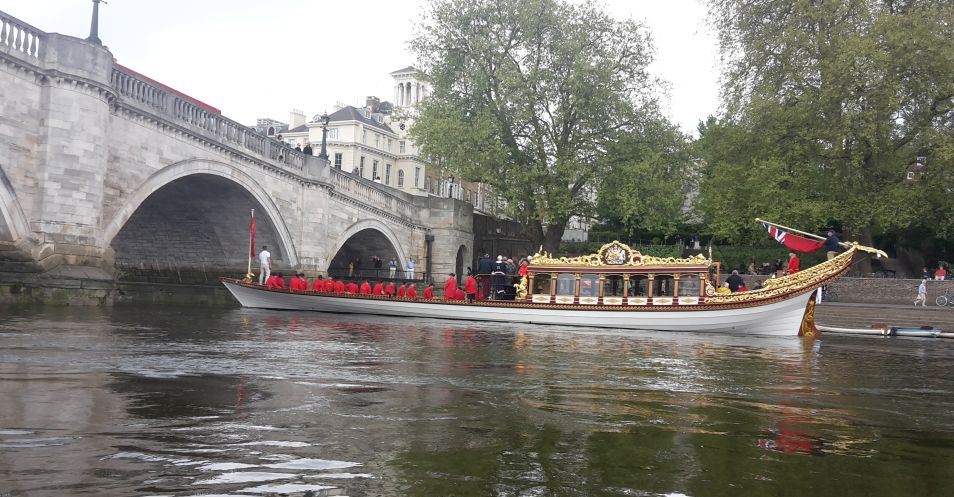 Our third Explorer walk of the year we will return to the banks of the Thames, this time we will walk from Barnes bridge, through some pretty villages along the river bank and will pass some grand houses like Syon House and Ham House. We will end our walk in Teddington, from where we can easily get a train back to our parts of London.
You don't have to have ambitious plans to enjoy this walk, but if you are training to Nordic Walk the half marathon (aka the Big Half) on 4 March, this 12 mile/19.5 km walk will keep you on track with your training schedule, so do make sure to join us.
We will walk at our usual pleasant pace, but -be warned- it is a much longer walk than our usual 7 miles.
Now the days are still short, it is even more important to spend time in nature, get plenty of daylight and enjoy the friendship and company of others. So, come on a walk with us – we promise we will help you feel absolutely fabulous, both mentally and physically!
To travel together: Meet us at 9.15 in front of the FCB café to the side of Denmark Hill station. We aim to get the 9.15 Overground to Clapham Junction, from where we will catch the 10 am train to Barnes Bridge, arriving in Barnes Bridge at 10.11.
If this is easier for you, you can also meet us in Barnes Bridge. If you do get the train at a different station, please make sure you text me on 078 078 3456 4 to tell me you plan to do that, and then again once you are on it, and in which carriage you are, so we don't get all worried that you are not there! 🙂
All stations are within the Oyster and 60+ Freedom card zone, so there is no need to buy tickets in advance.
Terrain and length of the route:
The route is about 12 miles/ 19.5 kilometres. As we are along the Thames, the walking is mostly flat, but there might be some cobblestones, muddy paths and steps along the way.
It is January, so puddles and mud can be expected. Please bring good footwear.
Toilets, food/drinks & what to bring:
I suggest we find a nice park café or pub for lunch, but if you want you can bring a pick-nick and enjoy your lunch outside. It is a great idea to bring a flask, so you have something warm to drink for on the way if you get a bit cold.
There are cafes and pubs at many places along the way, I am sure you can hop into one of those if you need a toilet.
I have a reputation to uphold, so I am counting on sunny weather, but this walk will happen in any weather, unless it is unsafe. Please check the forecast and bring your waterproofs and shoes with a good grippy profile. Waterproof trainers are highly recommended.
Clothing recommendations:
My recommendation for cold weather is to wear plenty of layers. As we are walking in a group, you might sometimes have to wait until the group is back together.
I like wearing 2 thin merino wool t-shirts with long sleeves, covered with a warm fleece sweater and a gore-tex rain jacket. I also like to bring a thin puffa jacket, which I can slip on during breaks, or when my layers are not warm enough. I also wear insulating tights underneath my walking trousers. And because I like to be toasty, I tend to wear waterproof over trousers when rain might be expected, or when the temperatures are low.
Puffa jackets are thin insulating jackets. Sometimes filled with down, sometimes with man-made fibres. Nordic Walking UK members have 15% off at Cotswolds Outdoors, so that could be a good place to look, but other good places to look for budget options: TK Maxx, Decathlon and Uniqlo. I can also highly recommend Uniqlo's heat tech underwear. Lasts forever, soft, warm, even when you get a bit sweaty. If you don't mind buying online, then I can highly recommend the Sportpursuit website for great reductions on the best Outdoor brands.
(There are lots of good waterproof shoes and great walking clothes available. They don't have to be expensive. Get in touch, I would be happy to share my favourites that fit your budget).
Who can join?
This walk is a bit more challenging due to its length, but anyone who can comfortably walk 19 km can join, and of course anyone who has been on our previous walks and could keep up without trouble.
Feel free to bring a friend or family member, with or without poles. Nordic Walker or not, you are very welcome to join us, if you are Fit (enough) and Happy! 😊
Are you a Nordic walker but don't have your own poles? Would you like to borrow some from me? Text me THE MORNING OF THE WALK on 078 078 3456 4 and I will bring you some. (please, please do not ask me for poles days before the walk unless you remind me the morning of the walk, or risk walking without poles.)
Cost:
£10 or, if you are one of our regular Fit and Happy Outdoors walkers, one stamp on your 10-session card. (£89 for ten walks)
If you are genuinely poverty stricken- £5
(Train tickets and food or drinks at café not included)
Joining A Walk
New to Fit and Happy Outdoors? Please fill in the registration and health questionaire, which you can find here and email them to walks@fitandhappyoutdoors.com at least 24 hours before the session, mentioning in the header which walk you want to join. That will give us enough time to get back to you and discuss your needs and experience.
Please sign up for our
Meetup Group to easily RSVP and find out when the next walks are.
Not on Meetup (yet)? You can also use this contact form:
Please fill in the form below