Nordic Walking 10 am
Wednesdays - Brockwell Park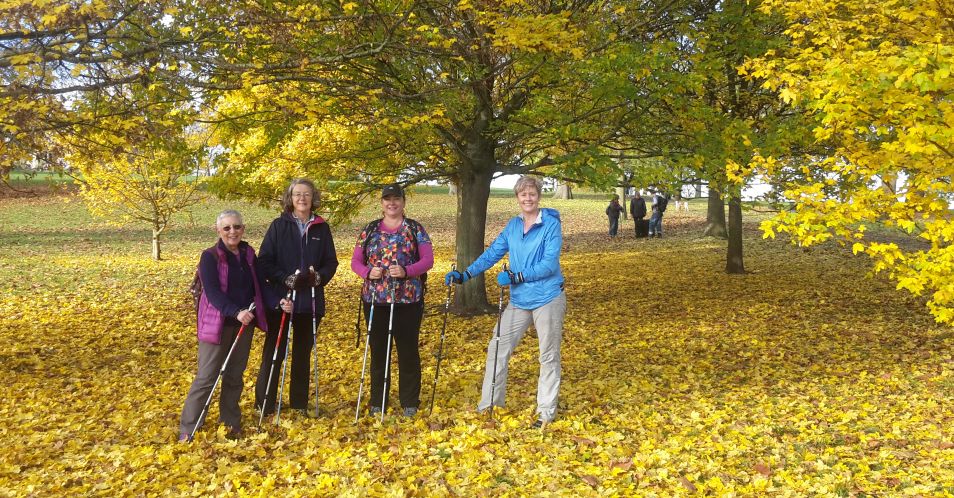 Nordic Walking Brockwell Park in southeast London. Join us on Wednesday morning in Brockwell Park for an action packed high intensity workout walk.
Start your day Nordic walking, it will relax and invigorate you, ready for whatever the rest of the day will throw at you.
We start with a nice and easy warm up, loosening our muscles and getting the blood flowing. Then we will start Nordic Walking, explore the park, using all it's features: hills, park benches, trees and tree trunks. Our exercises will get your heart rate up, but our walks are always super friendly and sociable, chatting and laughing is not only allowed, it is encouraged! And at the end of the session a super relaxing stretch, sure to get any leftover knots out of your shoulders and back.
These workout walks are designed to get results fast and are ideal for those with time pressures. Our Workout walks always last approximately one hour.
We make sure you work at a level that will get the most out of every step you take. Our focus is on progression, intensity and variety. We will use your existing skills and build on it, making sure you keep motivated and inspired!
Every session is different, but be sure our Wednesday morning session will get you working pretty hard. We incorporate the latest science and include some high intensity interval training. They are only 4 and a half minutes of very short bursts of cardio or strength exercises. We have new exercises every week, to make sure we train all muscles, keep you interested and progressing. Because the bursts are so short and we adapt them to your ability and fitness, everyone can do it, and the session will guaranteed get you better results than an hour boring yourself on the treadmill in the gym. You will really quickly feel fitter and happier, and you will see the inches melt off your belly. Guaranteed: your muscles will look more toned in only a few weeks.
Our groups are small, so we can work super personalised and adapt to your goals, your body and fitness level.
Interested to take part? Once you have completed your learn to nordic walk course (with us or any Nordic Walking UK participating instructors), you are very welcome to join! For prices and to pay for your session, please click here
In order to participate in a walk, please book your space at least 24 hours before its start time. Call 078 078 3456 4 to book, or rsvp on our !
We walk in all safe weather conditions – if a walk is cancelled, we will contact you to let you know.
Please check for text messages or Meetup updates (RSVP on Meetup to receive automatic updates) before leaving home.