Nordic Walking Holidays
Spring in Holland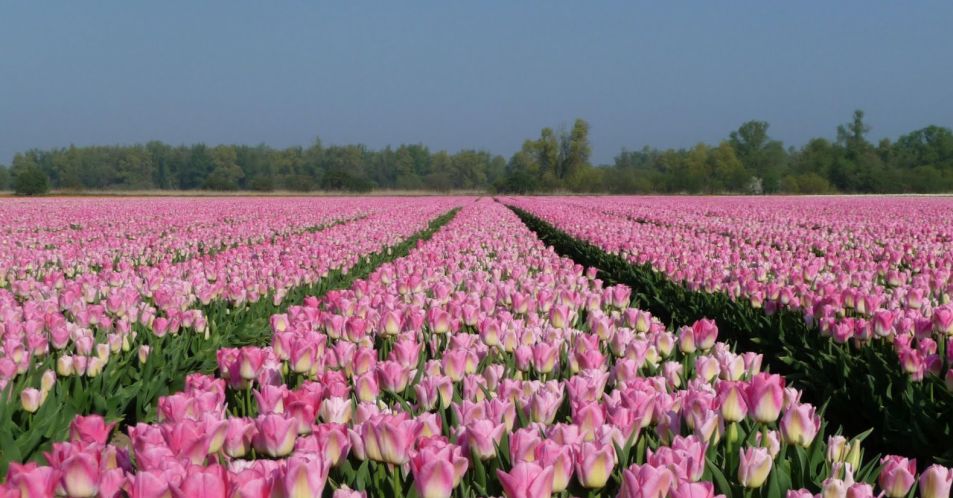 We love holidays at Fit and Happy Outdoors. After our successful Nordic Walking weeks on Sicily and Ithaka in Greece, we are thoroughly looking forward to our next adventure:  A Nordic Walking holiday in Holland.
This holiday is now fully booked. So sorry to disappoint you!
We are planning another Nordic Walking holiday for 29 September-7 October. It looks like we will visit Sicily again. Please get in touch if you are interested in our holidays and we will make sure to let you know as soon as we have all the details.
The Netherlands is of course not just about tulips and cheese, but we will definitely see a lot of those. And cows, lots of cows. And canals, and windmills and lots and lots of bicycles. But we will be mostly Nordic Walking, not cycling.
The end of April is the best time to see those tulips, and you will see fields upon field of colourful tulips and fragrant hyacinths. I can't promise you sunshine all week in Holland, but I do hope to surprise you with an incredible diversity in natural landscapes and walks.
We will walk in the dunes, between tulips, along rivers and canals, between apple blossoms and through heath and forest. There will be modern art, and old cities, a Unesco World Heritage site full of windmills, and you will experience how completely bonkers and orange the country becomes on King Willem Alexanders birthday (better known as Kings day).
We will be staying in a comfortable converted barn near the city of Gouda with 9 bedrooms and 7 bathrooms, and our own kitchen and a nice living room, so we will have plenty of space. As in our previous trips, we aim to give you a comfortable room all by yourself (you can share if you prefer, of course). I can't wait to show you the country I grew up in, and I have done my best to select some gorgeous country walks.
Here is an idea of the itinerary. Depending on weather and preference of the group, we could change certain days or walks slightly. We will be flexible and adapt if necessary.
Day 1 – Monday 23 April: Arrival and a walk in the green heart of the Netherlands
We will fly to Schiphol Airport where I will pick you up with a minibus. From there we will drive to our home for the week, a comfortable converted barn.
We will make ourselves comfortable and at home and, after a cup of tea and something to eat, set off on a lovely walk in the area around the house.
The House is in the "green heart" of Holland. The country side here is as flat as a pancake, cut through with little canals. A great place for bird spotting.
Day 2, Tuesday 24 April: Tulips, hyacinths, daffodils… and more Tulips!
Tulip time! We will start our walk today near the town of Hillegom. It won't be long before we see the first fields of flowers, and during our walk between Hillegom, Lisse and De Zilk many will follow, one of the paths even cuts right through the flower fields.
On our way, we will pass the entrance of De Keukenhof, which is only open 8 weeks every year. It will probably be quite busy, but the hundreds of thousands of different flowers make the Keukenhof well worth a visit. Be prepared to be completely overwhelmed by the sheer volume of flowers and colours!
Day 3, Wednesday 25 April: Modern art in a National Park
Today we will drive east, to visit Nationaal Park Hoge Veluwe. A landscape formed by ice-age glaciers, today will feel completely different from the first two days. The National Park has very few cars, instead we can grab one of the white bicycles; they have been there since the 70s, a very early version of London's Boris bikes! You will find them anywhere in this park, and they are completely free to use. The landscape is one of sandy dunes, heath and forest and we will start our visit with a walk in this wonderful park.
After lunch we will visit a fabulous museum of Modern art in the middle of the National Park: the Kröller-Müller Museum.
This museum boasts the second-largest Van Gogh collection in the world: almost 90 paintings and over 180 drawings. The Van Gogh Gallery displays varying selections of about 40 works by Vincent van Gogh. Furthermore, you will also find masterpieces by modern masters such as Claude Monet, Georges Seurat, Pablo Picasso and Piet Mondriaan.
Celebrating the 100th anniversary of the founding of De Stijl (The Style), the museum will have a special exhibition with masterpieces by Piet Mondriaan, Theo van Doesburg, Bart van der Leck and Gerrit Rietveld, among others.
One of Europe's largest sculpture gardens
Around the museum we can wander around in one of the largest sculpture gardens in Europe.  Distributed throughout the garden are over 160 sculptures by iconic artists, from Aristide Maillol to Jean Dubuffet, from Marta Pan to Pierre Huyghe.
There is so much to see in this park, the museum and the sculpture garden, it is almost impossible to see it all, so be prepared to make some hard choices.
Day 4, Thursday 26 April: Gouda (the town, the cheese and the market)
After two really busy days we will take it a little more easy today. It is market day in Gouda, the pretty city near our house. The cheese market is a bit of a spectacle, but the market is not just for tourists and it is a nice town to explore.
On the market, you will smell the fresh stroopwafels from afar. I recommend having one, still warm. Or try some raw herring, much nicer than it sounds. It is a real treat (one of the few things I miss not being able to buy living in London).
Gouda has a rich cultural history and there are beautiful monumental buildings, modern art galleries and museums. The city centre is quite compact, so everything is in easy walking distance.
In the afternoon, you can choose to stay in Gouda (we can pick you up later), have an afternoon off with a good book or a chat at home, or join for a walk which might feature a visit to one or two local cheese farms with farm shops.
Day 5, Friday 27 April: Kings Day in Amsterdam
Today, the country will be completely dressed in Orange to celebrate the birthday of King Willem Alexander.
Most towns and village will have festivities. It is one of the busiest days of the year to go to Amsterdam, but we will find some friendly fun in Amsterdam's Vondelpark and the surrounding area. The whole of the city will turn into one big flea market, and residents sit on their doorstep with anything they no longer need. There will be kids playing their heart out in the hope of making a quick euro, and the canals will be filled to the brim with partying people on little boats.
As it is a national holiday, most museums and shops will be closed, but traditionally the Gemeente Museum and Rijks museum are open, which can be a good place to avoid the crowds.
We will walk a lot today, there will be trains but no trams, and our minibus will stay on the outskirts of Amsterdam. But we will probably not take our Nordic Walking poles, they will only get in our way.
Day 6, Saturday 28 April: Fruit blossoms and a meandering river.
Today we will visit the area between the rivers Rijn/Lek and Waal, and we will follow the longest river in the Netherlands, the Linge. The nutrient rich soil all those rivers brought, gave the area it's name: de Betuwe (from the old Germanic batawjō, meaning "good island", bat- "good, excellent" and awjō "island, land near water").
It is a pleasant walk along the pretty river Linge, surrounded by a sea of apple, pear and plum blossoms. There are plenty of places to stop for lunch along the way.
After our walk we will visit the town of Leerdam, Since the 18th century, the town's culture has been strongly influenced by the glass industry. The glass currently manufactured in Leerdam is internationally as known as Royal Leerdam.
If we are still up for it we could visit Schoonhoven on the way home. This tiny city was, and is still known for its silver manufacturing industry. I have very special memories to this town: it is where I went to college to become a silversmith.
Day 7, Sunday 29 April: The windmills of Kinderdijk
I hope you haven't had enough of this watery land quite yet. By now you will be very aware that roughly a third of the Netherlands lies below sea level and today our walk will lead us along 19 authentic windmills. Ever since they were built in the 18th century, these mills have kept the water levels low enough for the marshland to be inhabited and farmed.
It is not just me who thinks this area is special, it is Unesco world heritage site and even though we will probably see quite a number of tourists here. Our walk will lead us away from the fray, and quickly we will find ourselves on little country trails enjoying the endless views.
Day 8, Monday 30 April
Today we will pack our bags and fly back to London
We like small groups and have only 8 spaces on this trip. We have now surpassed our minimum of 6 participants and this trip will definitely go ahead.
So if you want to join, sign up quick! 
Fit and Happy Outdoors is all about community and friendship. For that reason, we give active members priority to take part in this trip. (by active member we mean someone who has taken part in our 4 week learn to Nordic walk course, who regularly walks with us or has regularly walked with us in the past)
More information? Write to Ailien@fitandhappyoutdoors.com or ask for a call back.
Price: £685,-
(A first installment of £200 is payable upon registration.)
Included in the price:
Our guesthouse De Appelgaard 7 nights on the basis of single use of your room
Transport to and from Schiphol airport (provided you are on the recommended flight)
Transport to and from walks
All breakfasts
Some pick-nick lunches and snacks for on the way.
5 healthy home cooked dinners (please let me know if you have any dietary requirements)
teas and coffees in our guesthouse
All walks guided by Ailien
Not included:
Flights
Drinks
Lunches and dinners apart from the ones mentioned above
entry fees to museums, national parks, etc
travel insurance
Recommended flights:  
Monday 23 April 2018 11:30 am from LGW, arriving in AMS Schiphol at 13:50 pm
Airline: British Airways flight BA27660
Return: Monday 30 April 2018 from AMS Schiphol at 11:25am arriving at LCY 11:30am
Airline: British Airway flight BA8452
Sing up now! 
Please sign up on our Meetup page 
Not walked with us before and not on Meetup? Please complete the contactform at the bottom of the page and we will get in touch with you!
More time in the Netherlands?
Please feel free to choose a later flight if you would like to spend more time in Amsterdam, Delft, the Hague, Rotterdam, or Haarlem (or anywhere else you fancy). I am happy to drop you off at a train station. Schiphol airport has great transport links and is easy to get to by train from most places. I would be delighted to help you plan an extended visit.
Please fill in the form below