October Explorer: The beginning and end of Daylight Saving Time
St Mary Cray to Petts Wood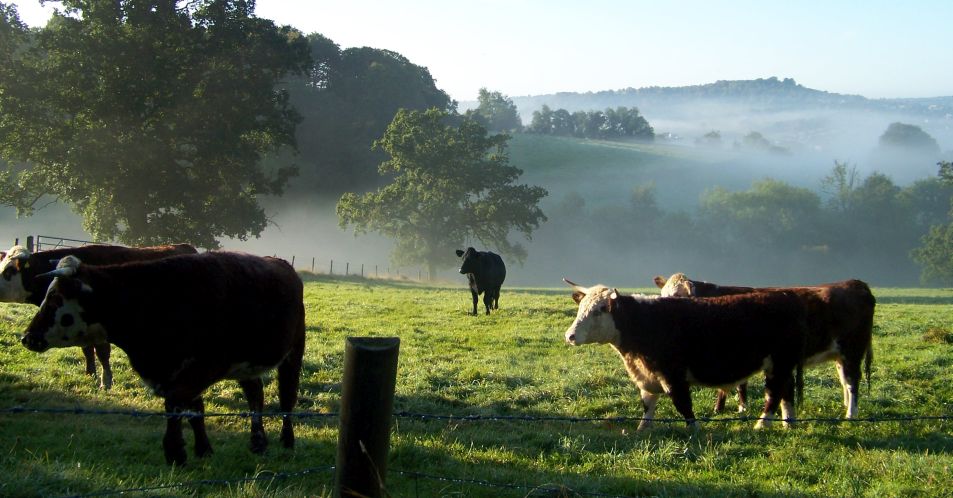 Nordic Walking and exploring London. A great combination!
Our October walk is a walk in the woods and fields to enjoy the colours of autumn and some spectacular views. This time we will explore some hidden gems in Bromley in South East London. Will you join us?
This is possibly the best place in London to celebrate the last day before the time "Falls back" for Autumn: this walk will lead us past the monument erected for the man who came up with the idea for British Summer Time!
William Willett was a prominent Edwardian builder who lived in Chislehurst. A keen supporter of outdoor activities, he noticed that during the summer, people were still sleeping when the sun had risen. Willett began to think about changing the nation's clocks and published his idea in a pamphlet called 'A waste of daylight'. It was this pamphlet that paved the way for British Summer Time.
We will start our walk at St Mary's Cray Station, which is an easy train ride from Denmark Hill Station. We will follow a mostly green trail, exploring National Trust owned Petts Wood and the Hawkwood Estate and the Scadbury Park Nature Reserve. Along the way we can make a stop at the Sidney Arms for a cuppa and a loo break.
After our stop, we will cross back to Petts Wood to see William Willett's monument. Petts wood is believed to have been planted in the last quarter of the 16th century by the Pett family, who were leading shipwrights for 200 years and are mentioned in Pepys' diaries.
We will cross the Hawkwood Estate and follow the Kyd Brook river, then cross the railway tracks to find the Jubilee Country Park Nature Reserve. We end our trip at Petts Wood station, to take the train back to Herne Hill Station.
Will you join us on this walk?
How to get there:
We meet up at 10.00 am at Denmark Hill train station
to get the 10.22 Thameslink train, which should arrive at St Mary Cray at 10.51 am.
A single to St Mary Cray (for the unlucky ones amongst us who don't have a Freedom pass yet) is £2.90 with your Oyster or contactless bank card. (If you prefer to buy a ticket, then don't buy a return. We will return from Petts Wood station)
You can either meet us at Denmark Hill, or you can meet us along the way or in St Mary Cray. Please take note of my mobile 078 078 3456 4, just in case you can't find us!
If this is closer to you, you can take the train at these stations too:
Elephant and Castle: leaves at 10.16 am
Peckham Rye: 10.25 am
Nunhead: 10.27
If you do get the train at a different station, please make sure you text me on 078 078 3456 4 to tell me you plan to do that, and then again once you are on it, and in which carriage you are, so we don't get all worried that you are not there! 🙂
Getting back:
We will take a train back from Petts Wood Station, which will stop at Bickley, Bromley South, Shortlands, Beckenham Junction, Kent House, Penge East, Sydenham Hill, West Dulwich, Herne Hill and Brixton and Victoria. So it should be easy to get home for most of us!
Terrain and length of the route:
The route is about 8.5 miles/ 14 kilometres.
This walk is a bit more adventurous than some of our other walks. It has some hilly stretches and the paths can be muddy if it has been raining a lot.
Toilets, food/drinks & what to bring:
I suggest we bring a pick-nick and enjoy our lunch outside, but we will stop at a pub along the way for a cuppa and a toilet break. If the weather is crappy we can have a slightly longer break to there to warm up, so you could decide to have something to eat there. (but better bring some other food too, just in case the waiting times for food are ridiculous).
Don't forget to bring something to drink for on the way. With the weather potentially getting a bit colder, a flask with something warm might be a good idea.
This walk will happen in any weather, unless it is unsafe, so bring your waterproofs just in case and (preferably waterproof) shoes with a good grippy profile.
Who can join?
Anyone who can comfortably walk 15 km.
If you have ever walked with us at Silverfit Burgess park, and you are comfortable walking in the medium/social walking group speed you will be fine, and if you walk with me in any of our Fit and Happy Outdoors walks, you will be totally fine too.
Feel free to bring a friend or family member, with or without poles. Nordic Walkers or not, that doesn't matter, as long as they are Fit (enough) and Happy! 😊
Are you a Nordic walker but don't have your own poles? Would you like to borrow some from me? Text me on 078 078 3456 4 and I will bring you some.
Cost:
£10 or, if you are one of our regular Fit and Happy Outdoors walkers, one stamp on your 10-session card.
If you are genuinely poverty stricken- £5
(Train tickets and food or drinks at café not included)
Sign up on our Meetup page. If you are new to our walks and not yet on Meetup you can also compete the form below:
Please fill in the form below